St John's Regional College has an active Parents' & Friends' Association which meets at 7:30pm in the Staff Room on the second Tuesday of each month during the school term (see dates below for 2017 meeting times).
The Parents' & Friends' Association was first formed in the 1960's and existed as St Mary's Ladies Auxiliary and St John's Mens' Auxiliary until 1969 when it at the direction of the College Board became St John's College Auxiliary.
The aim of the Association is to create opportunities for families to familiarise themselves with the running of St John's in a relaxed and friendly atmosphere, while getting to know other parents and staff. The Parents' & Friends' Association also has representation on the St John's College Board.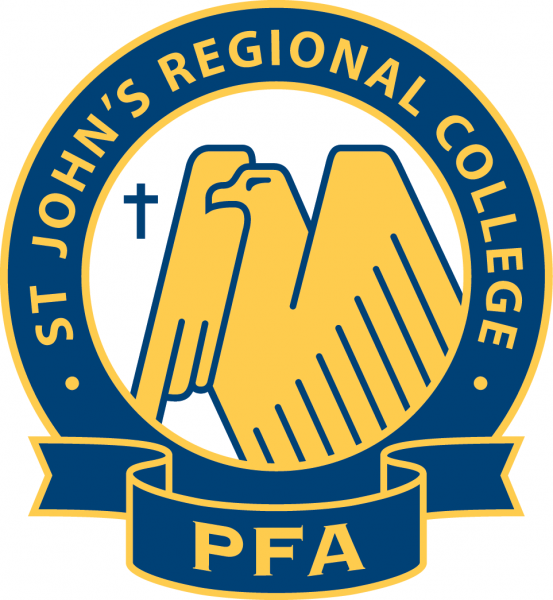 Our Goals
To support the College and its goals
To foster friendships and develop a support network within the College community
To act as a communication channel between parents and the College
To co-ordinate social occasions where parents, friends and staff of the College can meet together
To assist in fundraising for the future growth and development of the College
To organise the Presentation Ball for students in Year 11 at the College.
Projects
The Parents' & Friends' Association has funded or contributed to several large projects which will continue to benefit the widest cross section of students possible. Some of these projects have included Computer Work Stations and refurbishment of the Reading Area in the Brother Amedy Molloy Resource Centre, Sewing Machines for Textiles, a Coffee Machine for Graduates' Restaurant, Interactive Whiteboards and Data Projectors, the refit of the Dance Studio and Canteen refurbishment.
The Parents' & Friends' Association also paid for the purchase and installation of the NEC Video Walls in the Brother Leo Scollen Stadium.
Activities
Some of the things that we do include:
We assist staff by hosting and catering for parent welcome evenings
Hosting New Parents Morning Tea
Organising and running the Annual Presentation Ball for Year 11 students of the College (Run annually since 1975)
Social Evenings – at intervals (Such as Graduates' Restaurant Nights, Trivia Nights)
Assist at the WYD@SJRC
Easter and Christmas Raffles
 Why Join?
All parents and friends of the St John's Community are welcome to join us:
To make new friends
To learn what is happening in the College.
To enjoy social functions.
To share ideas and talents.
To become involved in the College Community.
---
Executive Committee in 2018
President: Julia Taylor
Secretary: Renata Johnston
Treasurer: Susan Hannan
Board Representative: Cathy Pascal
General Members: Linda Molinaro, Cathy Pascal, Greg Van Es
Presentation Ball Committee: Magda Rampal, Vlasta Boscolo
2018 Meeting Dates (7.30pm Start)
13 February 2018
13 March 2018
17 April 2018
8 May 2018
12 June 2018
17 July 2018
14 August 2018
11 September 2018
9 October (AGM) 2018
13 November 2018