Tercentenary Celebration – One Heart, One Commitment, One Life
Tercentenary celebration of the death of Saint John Baptist de La Salle (1719-2019), founder of the Institute of the Brothers of the Christian Schools (the De La Salle Brothers)
During 2019, the Institute of the Brothers of the Christian Schools (the De La Salle Brothers) and the Lasallian Family will celebrate the 300th anniversary of the death of their founder, Saint John Baptist de La Salle, Patron Saint of Teachers.
The Institute has designated 2019 as the Year of Lasallian Vocations.
Throughout the world, events and celebrations are being planned to honour our common heritage of providing a human and Christian education to the young, and the poor, and to promote the vocation of the educational ministry.
Pope Francis once said, "We are pilgrims from death to the fullness of life." With this understanding, the theme of the Tercentenary, One Heart, One Commitment, One Life represents the fullness of De La Salle's life and the continued vitality of the Lasallian Mission and vocation in 80 countries around the world.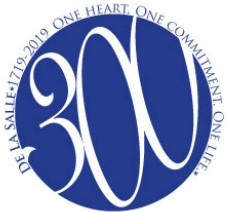 "You can perform miracles in regard both yourselves and your work by an entire fidelity to grace, not letting any movement of grace go by without corresponding with it; and by touching the hearts of children entrusted to your care,"
(J.B. De La Salle, Meditation 180.3)
Tercentenary Prayer
God, our Father,
You love us with endless mercy.
You call us to be your sons and daughters.
You invite us to take care of the Earth, our common home.
                  Lord, grant us a big heart.
                  A heart always willing to love.
                  A compassionate heart for those who suffer.
                  A heart where there is a place for Lasallians all around the world.
Lord Jesus,
You love us all and make us your brothers and sisters.
You call us to follow you.
You invite us to announce the Good News.
                  Lord, grant us the courage to live our commitment.
to go beyond our borders;
to discover you in the lowliest;
to see with the eyes of faith;
and to share our mission
with all Lasallians throughout the whole world.
Holy Spirit,
You love us and offer us the gift of association.
You call us to live with joy.
You invite us to be people with a creative inner life.
                  Lord, grant us your strength for a life full of meaning.
we will live the values of the Gospel;
our inner life will grow;
and we will be credible witnesses, together with the entire
Lasallian Family, in the midst of our world.
Holy Trinity,
God of communion,
we want to be faithful to our charism,
zealous in our life of faith
and committed to the Lasallian educational mission.
                  Together and by association,
                  and in a spirit of thanksgiving,
                  we celebrate these 300 years of life
                  and renew our Lasallian commitment.
We make this prayer through the intercession of Mary, Queen and Mother
of Christian Schools, and through the intercession of St John Baptist de La Salle,
patron of all teachers.
Amen.