Study Tours & Camps
The curriculum of St John's Regional College is supported by camps and experiences across all year levels. Students are offered fully facilitated team building camps, immersion programs, reflective faith based retreats and interstate and overseas opportunities. Our students learn life skills and engage in experiences that will remain memorable well into their adult lives.
---
Year Level Camps & Retreats
In Year 7, students have the opportunity to meet and make friends early in the first term.  Students either attend Adanac Camp in Yarra Junction or Don Bosco Camp at Safety Beach in Dromana. In these relaxed and enjoyable settings, students get to know their peers and teachers and are welcomed into the St John's community.
In Year 9, students attend an outdoor education camp at Lake Eildon. This provides students with the chance to challenge themselves through new experiences. There are a variety of activities, both water-based and in the natural bush setting which promote personal development and team building for the students.
The College also provides Retreat opportunities at different year levels. These retreats enable students to explore ideas about faith and life. These experiences culminate with the Year 12 Retreat held during the first term.
---
Italian Tour
St John's Regional College offers all students in Years 9-12 the opportunity to experience life in Italy with all its uniqueness and beauty.
Travelling encourages independence, resilience, peer support, risk-taking in the language, appreciation of cultural differences and of course improves fluency and confidence in the language.
Italy has so much to offer in the areas of history, religion, art, cuisine, architecture, music and language just to name a number of advantages.
Quick points about our next Italy Tour:
Year 9 to 12 students in 2019 may attend.
You don't need to be studying Italian.
The cost has been reduced with payment options available.
New draft itinerary.
Involves sight-seeing, family stay in groups and a short Language School experience.
Unforgettable memories!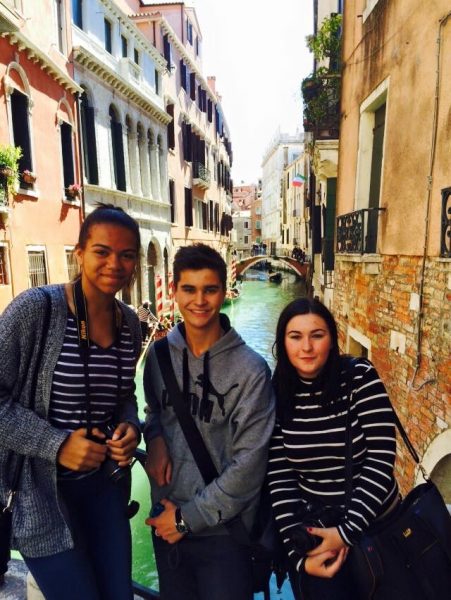 Testimonials from students:
The Italian Study Trip has most definitely been the highlight of my life so far! There were so many marvellous aspects of the trip including seeing world famous architecture, climbing the Leaning Tower of Pisa, eating delicious Italian food every day and visiting the iconic cities of Rome, Venice and Florence! However, the best thing about the trip was experiencing the richness of Italy as a local and not just as a tourist. The true beauty of Italy is uncovered during the enchanting night walks around the ancient cities, seeking out the best cafes for lunch, testing out your bargaining skills in the markets and of course, living with your Italian family! During the trip I made new friends, international connections and I fell in love with Italy!

Brooklyn Ludowyk, AQ3
The immersive experience was invaluable to learning more about the Italian culture and having an amazing time. Truly an awe inspiring experience.

Terence Kozoolin, CO2
---

Central Australia Tour
St John's Regional College provides the opportunity for students in Years 10 and 11 to participate in a nine day tour to Central Australia during the September holidays. The tour is offered every two years.
Students and accompanying staff travel by coach, spending a night in Adelaide en route to Coober Pedy, the opal mining town in central South Australia. After a night "underground" and a tour of this unique town, the group makes its way to Alice Springs, setting up camp for three nights and visiting the famous sites of the MacDonnell Ranges, including Simpson's Gap, Standley Chasm, Glen Helen and Ormiston Gorge. A visit to the Royal Flying Doctor Service and the "Birds of Prey" show at the Alice Springs Desert Park are also included. The tour continues to Watarrka National Park for one night to hike through the majestic King's Canyon. The final two nights are spent camping at Yulara, where the group visits the world-famous Uluru (Ayer's Rock) and Kata-Tjuta (The Olgas) which are highlights of the tour.
After an action-packed eight nights and nine days, the students and staff fly home directly from Yulara to Melbourne Airport. Information about the Central Australia tour is distributed to students early in the year of the tour and an Information Evening is held for all participants and parents in the August before departure.